Kunwar Bai has lived a life of obscurity. In the winter of her life, which she claims has been of 105 years and counting, she has become a household name in Chhattisgarh, her home state and famous all across the nation as the mascot of Swachh Bharat Abhiyan with the noble aim of making India open defecation free by 2019.
If a rich man donates money to construct a community toilet, no one as much bats an eye. But this was not the case with Kunwar Bai. A resident of Kotabharri village in Chhattisgarh's Dhamtari which is one of the poorest districts of the country, Kunwar Bai has worked all her life as a daily wage labourer, living a hand to mouth existence. The only assets she could call her own were a few goats. Constructing a toilet in her home, which is expensive, was an arduous decision for her to make.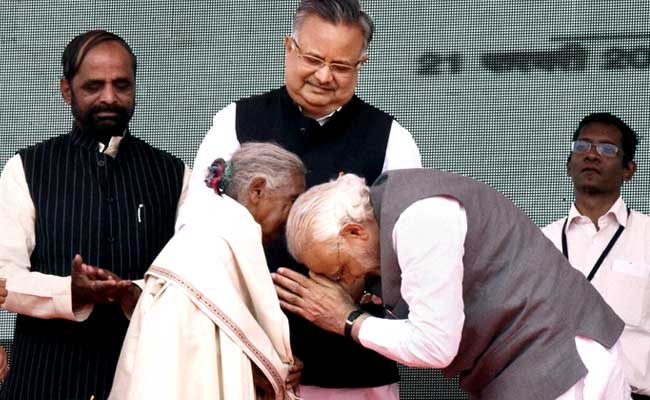 But she did this, by selling the goats and taking a small loan from her daughter-in-law to assemble Rs. 22,000 for the toilet. It was the first personal toilet in her village which soon became a talking point in the neighbourhood. Villagers came pouring in to have a look at it. Within weeks, people from nearby villages started dropping in, many starting to build their own toilets. "She's poorer than most others here and now people say, 'if she can do it, so can we'. She has provided a solution," says Vatsala Yadav, village council head of Kotabharri.
The district collector was visiting the local school to give a speech. I also went along and there he talked about building toilets. Until then, I had no idea about toilets and never thought about it. But what he said, set me thinking. It sounded like a good idea.
"The country is changing. It seems when a woman at a remote village makes efforts to fulfill a dream of clean India mission, she is an inspiration for everyone, especially the youth," said Prime Minister Narendra Modi felicitating Kunwar Bai by bowing before her and touching her feet at an inaugural event in Dhamtari. He made her the mascot of Swachh Bharat Abhiyan, which she duly deserves.
105-year-old Kunwar Bai, who sold off her goats to build toilet has been chosen as the Swachh Bharat Abhiyan mascot. https://t.co/6qaGFOuvKf

— Swachh Bharat (@swachhbharat) September 15, 2016
If Kunwar Bai could do it, everyone else can. Her perseverance and determination serves as a message to all to construct a toilet at home. We should all strive for a healthy and clean India. A 105 year old decrepit woman did it, what's your excuse?